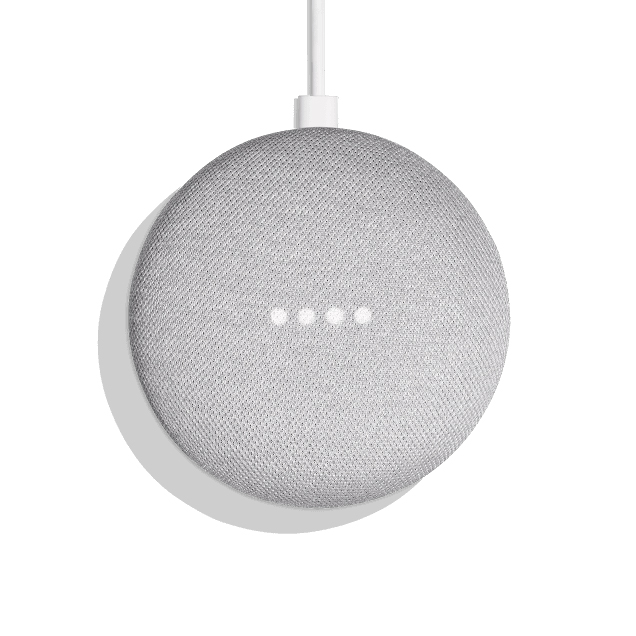 Google Home Mini
Google Home Mini packs the full power of the Google Assistant into a tiny little package. Use the Google Assistant to control your smart home devices, play music, provide information, news, sports scores, weather, and more.
Just say, "Hey Google"!
Google Home Mini and Yonomi
With the Google Assistant and Google Home Mini, it's easy to control all of your favorite Yonomi Routines and connected devices using only your voice. The Google Assistant acts as your own personal hands-free interface, so you can tell it to do anything the Yonomi app can do. Just shout, "Hey Google"!
Learn how to enable the Yonomi app for the Google Assistant here.
Why We Love It
Get answers, play songs, tackle your day, enjoy your entertainment and control your smart home with just your voice
Listen to music, playlists and more, and get rich sound from Google Home's high excursion speaker
Get personalized help with your schedule, reminders, calls, news and more, whenever Google Home recognizes your voice
Google Home works with Chromecast, so you can stream shows, movies and music on your TV or speakers without any additional hubs
With the Yonomi app for the Google Assistant enabled, you can control your lights, fans, switches, thermostats, garage doors, sprinklers, locks, and more with compatible connected devices from Sonos, Philips Hue, LIFX, Samsung SmartThings, Nest, ecobee, Wemo, TP-Link and others
*The Google Assistant on Google Home Mini acts as a hands-free interface to control your favorite Yonomi Routines and devices. It does not support any further Actions, Events, or Conditions as part of your Yonomi Routines.